---
6 useful tips for choosing a label maker
---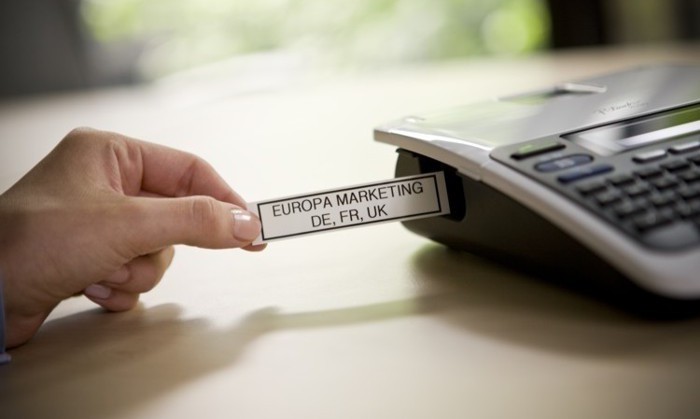 Label markers are a great solution for printing durable plastic labels of various sizes and colors. Their use is very diverse, and therefore there are a number of labelmakers with different features. The following list summarizes the most important ones that we recommend you consider when choosing the right label maker for you.
Intended use of your labelmaker
Before purchasing a label printing device, first clarify what your label printing needs are. Labelmakers are generally suitable for printing rather smaller series and in cases where it is necessary to print labels of different sizes and colors on a regular basis. If this is also your case, then a label maker is a good choice. However, if you plan to print only one size of labels, mostly in larger series, we recommend that you consider purchasing a desktop thermal transfer label printer where printing costs are cheaper.
Maximum tape width
Labelmakers differ, among other things, in the maximum width of the tape they are able to print. It is therefore a good idea to consider what dimensions of labels you will need, especially the maximum dimensions required. At the same time, however, we recommend that you do not purchase a label maker with too large a print width that you will not use - because the larger the print width, the larger the label maker. Truly hand-held models that can be conveniently held in one hand usually have a print width of only up to 12 mm (for example LP5120), which is actually convenient for most users for standard day to day labeling.
Connectivity
Will you only be printing simpler labels from the keyboard, or do you want to take advantage of a computer connection and take advantage of professional label creation software? Thanks to the connection to a computer, you can insert graphics, any fonts or generate labels from text databases.
Keyboard
If you choose a labelmaker with a computer connection, consider whether you need it to have its own keyboard. If you are going to print in only one place and do not need to carry the label maker and print in the field, you often do not need a keyboard.
Special features
This point applies mainly to users who plan to mark electrical installations, switchboards and will therefore print labels on wires, cables or circuit breakers, for example. In this case, it is advisable to choose a label maker with automatic formats for such labels, which will make your work much easier and faster. Labelmakers for electricians, such as the Supvan LP-5125, have these features.
Printing resolution
Will you print more complex graphics, logos or small text and tiny QR codes? If so, choose a labelmaker with a higher print resolution of 360 dpi.
Where now?