---
Wire marking - Part 1: Wire marking with tubes
---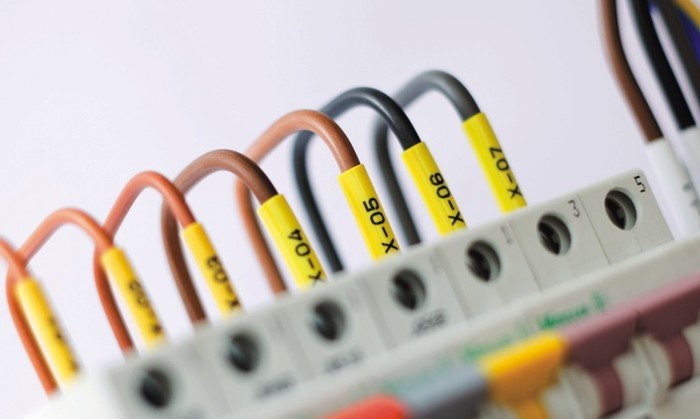 Fast, cheap, high-quality and simple - this is how the marking of wires with a tube could be briefly characterized. Simply print the required characters on the tube printer and slide the printed tube onto the wire. It couldn't be easier.
Machine description of tubes is usually only possible for tubes of circular or oval cross-section. This is because the tube is printed in a flattened state, which is not possible with profiled tubes. However, there is no need to be afraid of using rounded tubes. For every wire size there is a suitable tube, which can be easily slid onto the wire, but will not be too loose (when using rounded tubes, you can also bend the wire slightly at the marking point). If you want to be sure that the tube will hold better on the wire and will not rotate or slide, we recommend using oval tubes.
Compared to other types of wire markings, the tubes have several advantages:
When slid onto the wire, they take up virtually no extra space. You will especially appreciate this if you have several wires next to each other in one place and there is little space left for marking. Profiled tubes often do not fit into such place at all or the markers are more difficult to read.
The actual installation of markers is easier and faster.
They are many times cheaper.
In addition to PVC tubes, shrinkable tubes can also be used. These are especially suitable if it is necessary to ensure that the tube holds perfectly on the wire. However, shrinkage is an extra activity, which of course takes more time during assembly.
Marking wires with a tube is suitable for both small series as well as for printing large number of wire markers. Thanks to its simplicity, quality and low price, it has become one of the most popular ways of marking wires.
Advantages:
speed and simplicity
low device cost - tube printers are significantly cheaper than other devices for printing wire markers
the cheapest operating costs
high quality and durability of markers - resistance to oils and abrasion
markers do not take up extra space
Disadvantages:
the need to use multiple diameters with rounded tubes
All parts of the series:
Marking wire with tubes - photos